Zik neqqar win yebghan tamazight, ad yissin tira-s
Ass-a neqqar win yebghan tamazight, ad tt-yaru
Tigejdit :
Azul fell-awen ay atmaten d teysetmatin
Tikwal, uqbel ma ted'ra-d kra n twaghit, medden ma temmeslayed'-asen fell-as, ad tt-nwun d awezghi ad d-ted'ru, seg wakken taghawsa-nni tettban-asen-d teb'ed ghef tilawt (rťalitť), seg wakken ur zmiren ara ad xaylen tawaghit meqqren am tin tezmer ad d-tili di tudert-a. D acu kan, aql-agh nettidir deg yiwen n wemd'al i deg kulci yezmer ad yed'ru, kulci nezmer ad t-nwali, d amd'al i deg awezghi yettughal d taghawsa n menwala, di lweqt i deg ss'wab akk d lh'eq ttughalen d awezghi. Di tmura n Tmazgha, yiwen ur yezmir ad yenker' azal ay tes'a timmuzgha, ama seg yidis n umezruy, ama seg yidis n yedles, ama seg yidis n tnettit (identitť), ama seg n tudert ara tt-ttidiren medden ass-a. Tamazgha akka ay tt-id-yefka R'ebbi, d Tamazight, ad bghun medden negh ad agin, yernu timmuzgha yezzwer-itt lh'al uqbel n yidelsan akken ma llan akken d ad taf amkan-is deg wakal-is. Yella win yes'an axxam ur yettalas deg-s ? negh win yes'an arraw-! is, ad as-ten-kksen u ad ten-nekr'en d akken yines ? Anect-a yettban-agh-d d awezghi, maca di tmura n Tmazgha, d awezghi ay yughalen d ss'wab, yernu lumur' atenti teddunt amzun acemma ur illi. Di lweqt i deg Ldzayer attan tewwet nneh', tesme'req tes'uzz'eg, ur teqqen allen-is ghef wayen ay d-tewwi ad t-texdem s lh'ir akken ad tesselmed tamazight deg ugherbaz u ad tt-sseddu tutlayt-a di ttawilat n teywalt (communications), tamurt n Merr'uk tefren ad d-tesse'jel lumur' u ad t'eddi gher leqdic i yes tessaram ad temh'u yis-s tamazight. Buuh, buuh ... akken d rr'ay !!! Di tmurt i deg llan kra qqaren-d d akken tuget (tt'aqa) akk di medden ttmeslayen tamazight, di tmurt yugaren akk timura deg wanect tes'a d Imazighen, llan kra ssaramen ad as-qed''en nnefs i tmazight u ad tt-nghen s tin n tsusmi. D acu kan, amek ay zemren ad as-bernen i tmazight tamgerd't di tmurt i deg yal az'ru d yal asaglu (ttcejr'a) yettmeslay s tmazight ? Amek i bghan ad xenqen tamazight di tmurt i deg llan wat'as n Yimazighwalen (amazighophones) akk deg wemd'al ? Amek ara ssiwd'en ad nghen tamazight di tmurt i deg maci ala kan d imdanen ay yettmeslayen tutlayt-a, wanag ula d akal yettmeslay-itt, imi yal adrar, yal taddart, yal ighzer d yal lexla yes'a isem s tmazight ? Am win yebghan ad yessired afus n wakli, ad as-ibeddel ini (llun), wanag, tamazight ay yessawd'en ad tidir anect-agi akk n leqrun mebla ma yessared-itt umezruy, ur d-mazal icenga-yines (i'dawen-is) ad s'un lmizan fell-as deg wakal n Merr'uk. Tutlayt-nnegh attan a tetteh'diqir, a tettewliwil akken ad d-teffegh seg uz'ekka i s-ghzen wiyad' (yernu d wigad-is a tawaghit), akken ad tt-med'len nettat tedder. Ass-a, arraw n Merr'uk ur qbilen ara tagi ad ternu ad t'eddi fell-asen, yernu atni a d-ttenkaren akken ad d-inin "tewwed' tkerza s ah'did". Xas tamazight attan ghef yiri n tmattant (lmut), simmal rennun tezz'un-as aqerru yicenga-yines di yal amkan, attan a d-tettankar dderya ara tt-id-icaf'en seg uz'ekka, u ad tt-id-terr ! s annar akken tella zik-nni. Xas mmuten lejdud, mazal akal yecfa, yernu yettmeslay. Ass-a negh azekka, adennit ad d-tughal tidet s amkan-is di Merr'uk, ad rrz'en yicenga n tmazight deg wawal-nsen u ad qeblen tamazight-nni ay ker'hen acku attan tella deg wakal-is, yernu ula d akal-is d tamazight ay yettmeslay. Maca digh, d akal yecfan ghef tutlayt ayen ara d-yessakayen Imazighen n Ldzayer, wid n Unez'ruf Ameqqran (Sahara), wid n Libya akk d wid n Tegzirin Tiknar'iyin akken ad d-gren tighri ula d nitni u ad ssutren ad as-d-yughal i tmurt wayen i deg tettalas. Deg wat'as n yimukan n Tmazgha, xas tewwed' tmazight alammi temh'a d ayen, mazal llan yismawen n yemd'iqen, "awal n wakal" umi nezmer ad nsel di yal amkan, dgha xas icenga ssawd'en ad mh'un medden s lekmal-nsen, anza n wakal mazal yettant'aq-d, awal n lejdud mazal yeqqar aql-i da. Tah'eqranit ay ih'eqqaren ur tettr'uh'um ara yis-s gher meb'id imi ccer'-nwen iban, yettwakcef-d, wanag at lh'eq yezgan ttaghen tiyitiwin, tsusumen, a! dennit (labudd) ad rebh'en, xas akken tikli, teddun kan s le'qel : tiqit n waman d aman, maca tfellu az'ru. D acu kan, ilaq ad neste'ber' digh ula d nekni seg wanect-a. Lemmer maci d lejdud-nnegh i gh-d-yeddjan ismawen i wakal-nnegh, tili ass-a ur nz'er d akken si zik n zik ay d agh-t-id-h'err'en. Ma nsemmeh' di tmazight ass-a, nr'ebba-d arraw-nnegh nerra-ten d wid yettun iles n tjaddit, imenghi-nnegh ad ir'uh' bat'el, am win d-yeddjan akal i warraw-is, ughalen wigi zzenzen-t s wulac, ur ddjin las'el ad ikemmel. Tamazight tella, tella ... maca awfan ad ilin Yimazighen-nni i yes ara tili. Ayen yebghu iga-t ucengu i tutlayt-nnegh, ur tnegger ara, ma yebgha R'ebbi, yernu skud nessway iz'uran, tamurt-nnegh, Tamazgha, dima ad teqqim d tamazight.
IMEDYAZEN
TIBRATIN-NWEN
Amed Lachgar, Kalifur'nya, Iwunak Yedduklen n Temrikt (USA)
Azul fell-awen a tagmat, Tanemmirt ghef teghmist-nna d-teggam, tfulki at'as, tessusem-iyi s ur-d imikk ... nekk d Amazigh n iffus (Sud) [anz'ul] n Merr'uk, teddregh di Marikan tura ... macc righ (bghigh) ad awen-inigh mas (belli) taghmist-agi (ad) ilaq ad as akk nawes (n'iwen) af ad telkem kigan (at'as) n yimadanen akk g izelmed' n Friqia (Afrique du Nord) [Tafriqt n Ugafa]. Tikklit yad'en (nnid'en) tanemmirt at'as ... afus g afus ad nettara s tutlayt-nnegh.
Tiririt : Tanemmirt ghef tebrat-inek, nefr'eh' yis-s at'as yernu nekni nh'emmel mi ara dagh-d-arun atmaten-nnegh s tmazight, imi ghur-negh, d tamazight d nettat ay d tutlayt n Yimazighen u yis-s kan ay d-tewwi ad ttarun (...) Nebgha (...) ad nerr tamazight d tutlayt tatrart (moderne) i yes nezmer ad nessiwel ghef kulci, d tutlayt ara yennernin gher sdat u ad d-tecbu tutlayin merr'a. Taghmist-nnegh nebgha ad nesselh'u yis-s ilugan (rŤgles) n tira n tmazight, ad asen-nessigh tanumi (habituer) i medden akken ad qqaren tutlayt-nsen u ad tt-sseqdacen di tira. Am wakken ay nebgha digh ad tili teghmist-nnegh d tin ara d-yesnejma'en akk Imazighen, anda ma llan, akken ad ttmeslayen (ssawalen) wagar-asen tamazight, akken ad qedcen u ad xemmen ghef wamek ara sduklen tutlayt-nsen u ad d-meslen (forger, faÁonner) tamazight n uzekka, tamazight tizeght (standard) ara fehhmen akk watmaten-nnegh anda ma llan. At'as n watmaten-nnegh ay gh-d-yettarun si Merr'uk, yernu at'as deg-sen ay d agh-d-yettarun s tmazight-nnegh 'zizen u ssefr'ah'en-agh-d, qqaren-agh-d d akken fehmen ayen ay nettaru s tentala-nnegh (dialecte) n Tmurt n Yezwawen (Leqbayel). Nekni numen d akken (belli) tamazight tezmer ad teddukel, maca (mais) ilaq d nekni, d arraw-is, ara ixedmen ghef waya. Lemmer (lukan) ad nettemyaru s tmazight wagar-anegh, ad d-yawed' wass, ma yebgha R'ebbi, i deg ara teddukel tmazight, yernu d atmaten akka am kenwi ara yeddjen aya ad d-yili, ncalleh. Tanemmirt-ik a gma. Afud igerrzen (bon courage). Ar timlilit ma yebgha R'ebbi. Tiddukla Tadelsant Imedyazen
---
Assenger n Yiserwen* n Tasmanya
*AborigŤnes
Sghur Runoko Rashidi*
[Aqeddem : Tasmanya d yiwet n tegzirt talemmast, tuzga-d deg wenz'ul agmud'an (sud-est) n Ustr'alya. Tigzirt-agi, am Ustr'alya, imdanen ines'liyen ay tt-izedghen, wwd'en-d ghur-s d igiman (milliers) n yiseggasen ayaka, tugh, ar ass-a ur z'rin ara yimassanen (savants) melmi swaswa. Imezdaghen-agi umi qqaren "iserwen" negh "ines'liyen" (wid ay d-ilulen di tmurt-a), d iberkanen n weglim, d iwanaghen n wallen, yernu s'an ansayen (traditions) d imer'kantiyen. Tutlayin-nsen ala kan di tmura-nsen ay tent-ttmeslayen, yernu s'an yiwet n tmusni meqqren ama ghef umezruy n wegdud-nsen, ama ghef win tmurt-nsen akk d wayen yettidiren deg-s. Maca, asmi ay d-wwd'en Wur'ufiyen (Europťens) gher Ustr'alya akk d Tasmanya, beddlent mlih' lumur', ama ghef yemdanen n tmura-ya, ama ghef wayen yettidiren deg-sent. Ur'ufiyen, mi walan imdanen-agi mgerraden (mxallafen) fell-asen at'as, ur ten-cuban di ss'ifa, wala deg wansayen, wala di tutlayt, bdan Wur'ufiyen "ad ten-tts'eggiden" akken tts'eggiden ighersiwen, negh bitt kter'. Imellalen h'ur'ben Iserwen n Ustr'alya deg wakal-nsen, dgha maci ala kan d tamurt i bghan ad asen-tt-kksen, wanag ula d kar'uh, ker'hen-ten, yernu ulac tin ur sen-xdimen. Ma di Tasmanya, akken nnid'en. Di tegzirt-agi ibe'den ay yellan d yiwet si tmura tineggura akk i gher ara yawed' wemdan amellal, yezre' deg-s axess'ar meqqren, akken ay t-yezre' di Temrikt, asmi ay yessenger ach'al d taqbilt n Yihendiyen, akken ay t-yezre' di Tefriqt taberkant i seg yella yettawi-d aklan akken ad ten-issexdem bat'el u s lbat'el deg wakal ibe'den ghef tmurt-nsen. Akka ihi ay irad wemdan amellal ad yezre' nnger ula deg wakal aneggaru i gher ara yawed'. Imezdaghen n Tasmanya, xas di citt'ah' deg-sen ay llan, xedmen deg-sen Wur'ufiyen yiwen n lbat'el, werdjin t-gin deg wab'ad' n yegduden nnid'en deg wemd'al (ddunit). Tidet n wayen ay sen-yed'ran, n wayen ay sen-xedmen Yimellalen, xas tettaqrah' alammi d ayen kan, xa! s llant deg-s tighawsiwin ur yezmir le'qel ad tent-yamen, d tighawsiwin yessexla'en, ameskar (auteur) n wed'ris ay d awen-d-nefren ass-a, Mass Runoko Rashidi, yefren ad d-yessiwel tidet akken tella, akken ay tt-yufa deg umezruy. Ula d nekni nefren ad tt-id-nessiwel i wid ur tt-nez'ri ara akken tella, ad tt-id-nessuqel akken tt-nufa, xas akken ur nugh ara tanumi nettmeslay-d ghef tghawsiwin yessedhacen am tigi s tutlayt-nnegh tucbih't. Xas imezdaghen ines'liyen n Tasmanya negren, negrent tutlayin-nsen, negren wansayen-nsen, wwin yid-sen akk ayen s'an d tamusni, tidet, xas qessh'et, ad tt-id-nessiwel akken ad tt-issinen medden u ad d-teqqim di ccfawat n umezruy. Yugh lh'al, ula d nekni nes'a atmaten umi yed'ra wayen d asen-yed'ran i Yitasmaniyen : Imazighen n Tegzirin Tiknar'iyin ay snegren Spenyul, sakin, citt'-nni ay d-yeqqimen, yexdem akk udabu aspenyuli ayen umi yezmer akken ad ten-yemd'el nitni ddren. Tugh, at'as ara d-nelmed seg wemd'al-a, awi-d kan ad nkemmel assekfel. Afud igerrzen.]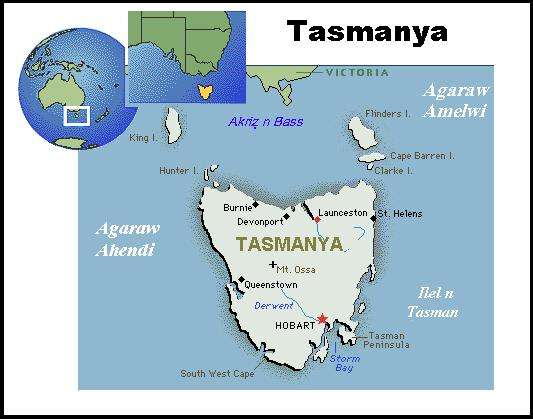 At'as n medden, mi ara d asen-d-nebder isem n Tasmanya, ttmektayan-d aghersiw-nni (animal) aweh'ci itetten kulci, win umi qqaren "ccit'an n Tasmanya", ay yughalen mechur' deg wunughen iteddun (dessins animťs) imarikaniyen. Di tidet, Tasmanya d yiwet n tegzirt ay yugaren kan s cwitt' Virginia Tagherbit [di Marikan, imi Tasmanya tes'a 67.000 km2] yernu teb'ed 240 km ghef yiri n lebh'er' n wenz'ul agmud'an (sud-est) n Ustr'alya. Imezdaghen ines'liyen n tegzirt-a d iberkanen ay d-yusan gher din asmi ay d-mazal Tasmanya yeqqen-itt wakal akk d Ustr'alya, meh'sub wer'ad tughal d tigzirt. Iberkanen ines'liyen n Tasmanya llan s'an acebbub akertcettcay yernu llan deg-sen wid yes'an aglim d aberkan d wid yes'an aglim d aqehwi imalen gher tezwegh. Llan d iwezlanen citt'ah' yernu d ikenderracen (s'an citt' n tassemt di tfekka, wwin-d iman-nsen). D nitni ay d imezdaghen imenza akk n Tasmanya, yernu ma cwit', s'an 35000 n yiseggasen aya! kka seg wasmi ay bdan yimezwura-nsen a d-wwd'en gher din. Asmi i'edda zzman, yuli lebh'er' yernu ighumm tiqent'ert-nni n wakal ay yeqqnen Tasmanya gher Ustr'alya, dgha seg yimir-n ay qqimen yimezdaghen n Tasmanya ttwa'ezlen ghef wemd'al azal n 10.000 n yiseggasen, yernu werdjin yelli wegdud ay yeddren i yiman-is anect-agi akk deg umezruy n yemdanen.
Nesh'issif at'as imi imezdaghen n Tasmanya ur d-ddjin ara amezruy yuran. Ur nez'ri ara amek ay llan ssawalen i yiman-nsen negh i tmurt-nsen. Ay gh-d-yeqqimen seg-sen ass-a ala kan d iceqfan mezz'iyen n yisallen, d ifettiten kan n yedrizen (traces) akk d wayen d-uran Wur'ufiyen ay yebdan ttawd'en-d gher tegzirt-a si 1642 d asawen.
Iberkanen di Tasmanya :
Iserwen n Tasmanya llan d imdanen yettidiren s ss'yada akk d welqad' n wayen i d-yettak wakal akk d ttcjur', yernu ttawil ay sseqdacen di tudert-nsen d ah'erfi imi Itasmaniyen llan xeddmen-d kan citt'ah' n wallalen (instruments) d ih'erfiyen s wez'ru akk d wesghar, yernu llan ur ssinen tafellah't wala takessawt, ur s'in afexxar wala tigenziwin (arcs) d tneccabin (flŤches) ara sqedcen i ss'yada.
D acu kan, iberkanen n Tasmanya llan d wid yesqe'den mlih' timetti-nsen (sociťtť), dgha llan ttidiren s yinim (coutume). Ghur-sen, argaz akk d tmett'ut d jjwadj ay ten-yesdukulen di tudert, dgha ttidiren akken di tmetti. Anect-a yezmer ad agh-yeddj ad nxemmem d akken d imawlan ay yettd'ebbiren deg-s, maca di tidet, ur nessin ara at'as n tghawsiwin ghef temsalt-a.
Ghef wakken nessen, argaz akk d tmett'ut mi ara jewdjen ghur-sen, ttghimin akken alamma s teghzi n tudert-nsen, yernu qlil kan sandi ay yettagh wergaz ghur-sen ugar n yiwet n tmett'ut. Igerdan-nsen llan ttabdaden-asen mlih' yernu ttaken-asen at'as n tayri. Ula d imgharen llan thellayen deg-sen di twacult yernu igerdan-nsen ttkemmilen tett'd'en seg uyefki n yemma-tsen ugar n wanect tett'd'en yigerdan Ur'ufiyen.
Beddu n nnger n yiberkanen :
A'zal-nni ay ttwa'ezlen Yiserwen n Tasmanya ifuk di 1642, asmi ay d-wwd'en Wur'ufiyen imezwura gher tegzirt-agi. Abel Jansen Tasman, ahulandi-nni imsilel (navigateur) i ghef semman tigzirt-agi, yewwed'-d ghur-s di Dujember' n 1642. Tasman isemma-yas i tegzirt-agi Akal n Van Diemen, ghef yisem n Anthony Van Diemen, imd'ebber ameqqran n Tkebbanit Tahulandit di Lhend Tacerqit. Dgha seg yimir-n ay tughal tegzirt-agi ssawalen-as Akal n Van Diemen alammi d 1855.
Deg wass n 5 Meghres, 1772, tewwed'-d yiwet n terba't n Yefr'ensisen gher tegzirt-a, win yellan ghef uqerru-nsen isem-is Nicholas Marion Du Fresne. Di citt'ah' kan n sswaye', ssawd'en yewlalen-is (marins) ad nghen ach'al n Yiserwen n Tasmanya. Di 28 Yennayer, 1777, wwd'en-d Yebrit'aniyen gher tegzirt-a. Dgha di 1803, mbe'd ma rran yiwet n tama di Ustr'alya, Gal Tamaynut n Wenz'ul (Nouvelle-Galles du Sud) d tama i gher neffun imeh'bas n tmurt-nsen akken ad ten-qasen, rnan ula d Tasmanya rran-tt akkenni.
Imeh'bas-nni yer'wan lh'if ughalen ula d nitni we'r'en maci d kra. Gher tama n yiserdasen, inedbalen (administrateurs) akk d yemseghdaden (missionnaires), ugar n 65.000 n yergazen akk d tilawin, d imeh'bas akk d tmeh'bas, ay d-wwin si Legliz gher Tasmanya. D acu kan, imi di tkurmutin-nni (leh'bas) i gher ay ten-id-wwin ur teqwi ara t'essast, llan ttaddjan imeh'bas-nni ad rewlen gher lexlawi n Tasmanya, dgha d anect-nni ay yeddjan imdanen-agi ifuden idammen ad d-ssuffghen tiqqid't n wefwad-nsen deg yimezdaghen iberkanen n tegzirt-agi. Ghef leh'sab n unmezray (historien) n tmetti, Clive Turnbull, imenghayen-agi (criminels) llan "neqqen Iserwen n Tasmanya s rrs'as', am wakken ay llan ttfelliqen-asen iqerray-nsen, sserghayen-ten d imuddiren yernu ttqeddiren-ten akken ad ten-fken d aksum i yid'an".
Ccwat'en n Tasmanya igan amzun d imdanen :
Si 1804 d asawen, bdan Yebrit'aniyen a neqqen iberkanen n Tasmanya d tirni negh a ten-ttakren akken ad ten-rren d aklan. Ula d anabad' (gouvernement) abrit'ani s timmad-is ur yebghi ara ad iwali Itasmaniyen ines'liyen d imdanen n tidet, yernu imassanen bdan, di tallit-nni, a ttmeslayen d akken tagherma (civilisation) ts'eggmen imdanen d iswiren (niveaux), dgha, di lweqt i deg d Imellalen ay yellan ghef taqacuct n tgherma, iberkanen amkan-nsen d win yellan ukessar akk. Ur'ufiyen n Tasmanya llan ttwalin iberkanen d tighawsiwin is'elh'en kan akken ad tent-sqedcen i les'lah'-nsen s wacemma n rr'eh'ma --dgha lbat'el i d-yed'ran yid-sen d ayen ur yezmir ad t-ixayel wab'ad' d akken zemren ad t-xedmen yemdanen i wiyad'. Dgha yenna-d deg wanect-a yiwen n uselmad di UCLA*, Jared Diamond : "Akken ad d-s'eggden Itasmaniyen, llan [Wur'ufiyen] ttazzalen deffir-nsen s yegmaren (i'ewdiwen) akken ad ten-nghen s rrs'as', ttandin-asen ticr'ektin (tifexxtin) akken ad ten-tt'fent, yernu srusuyen-asen lfar'ina n ssem anda ay zemren ad tt-afen u ad tt-ttcen. Imeksawen llan teddzen (castrer) irgazen Itasmaniyen, sakin berrun-asen ad azzlen akken ad ten-walin mi ara mmten citt'ah' meb'id. Ma deg yiwet n tighilt, qqaren-as Mount Victory, imennekcamen nghan 30 n Yitasmaniyen yernu d'eggren tifekkiwin-nsen d takessart. Yiwwas, yiwet n terba't n yemsulta (policiers) nghan 70 n Yitasmaniyen yernu fellqen-asen iqerray-nsen i yigerdan-nni i d-yeqqimen". [*UCLA : University of California, Los Angeles]
Tighawsiwin-agi icemten, tiweh'ciyin ay llan xeddmen-tent yimennekcamen imellalen deg Yitasmaniyen maci yiwwas, maci sin ay d-d'rant wanag d anect-a ay yellan id'erru-d yal ass. Yernu xas akken imellalen ra'en, ttcan ddunit deg wayen xeddmen mgal n yiberkanen, qlil kan sandi ay ttqasan amellal ghef lbat'el ara yes'eddi deg uberkan. Ghef umedya, h'kan-d d akken yiwwas yettwah'bek (fouetter) yiwen n wergaz imi ay d-yessken imezz'ughen akk d yeh'ricen nnid'en n tfekka n yiwen n weqdic aberkan ay i'eyyeb netta yedder. Ma d yiwen n Ur'ufi nnid'en, yettuweddeb (punir) imi ay s-yegzem tad'ad'ect-is i yiwen n Wesrew yernu yerra-tt d tas'effayt i ddexxan-yines. Dgha lqanun yenna-d d akken "win ara yeqqnen tamett'ut tatasmanit gher ttcejr'a u ad tt-yessergh s usaghur negh win ara ih'ettmen tamett'ut tatasmanit ad t'elleq aqerru n wergaz-is yettwanghan" ad t-h'ebken xemsa d 'ecrin n yiberdan.
D acu kan, wedjin yettuweddeb ula d yiwen n Wur'ufi ghef tmenghiwt n Yiserwen n Tasmanya. Ur'ufiyen ur llin tth'ulfun i wacemma mi ara qqnen argaz aberkan gher ttcejr'a yernu ad t-sqedcen akken ad lemden deg-s tiyita n rrs'as'. Ma d tilawin tiberkanin llan ttakren-tent, ttarzen-tent yernu sseqdacen-tent d taklatin. Imeh'bas imellalen rran ss'yada n yiberkanen d addal, dgha neqqen-ten s rrs'as' negh s yimeggiten (lances), am wakken ay llan kkaten irgazen-nsen s yi'ekzan alamma mmuten, s'ettiben tilawin yernu tekksen fell-asent sser, yernu sserghayen igerdan imez'yanen n yiberkanen nitni d imuddiren. Deg wanect-a, yura-d wenmezray James Morris : "Nesla s yigerdan yettwakren, rran-ten amzun d ighersiwen n wexxam negh d iqeddacen, nesla s tilawin yettwarzen am yighersiwen deg yexxamen n yimeksawen, akk d yergazen ay teddzen (castrer) akken ad ten-sbe'den ghef tilawin-nsen. Deg yiwet n tuffgha n ss'yada, seb'in n Yiserwen ay yettwanghan, irgazen-nsen nghan-ten s rrs'as', ma d tilawin akk d yigerdan d'eggren-ten s ighezran akken ad d-ghlin ghef yez'ra u ad fellqen yiqerray-nsen. Yiwen n wergaz umi qqaren Carrotts, yella yebgha ad yawi yiwet n tmett'ut tasrewt, dgha yegzem-as aqerru-yis i wergaz-is, i'elleq-as aqerru-yis i tmett'ut-nni yernu yewwi-tt gher tzeqqa-yines (cabane)".
Amgaru* n Yiberkanen
*guerre
"Amgaru n Yiberkanen n Wakal n Van Diemen", akka ay s-semman i lh'emla-nni tamens'abt (officielle) n rrebrab ay iga udabu abrit'ani mgal n Yiberkanen n Tasmanya. Ger n 1803 d 1830, mbe'd ma llan wazal n 5000 n yimezdaghen ines'liyen di tegzirt n Tasmanya, ughalen qqimen-d kan qell n 75. Deg yiwen n umagrad ay d-yeffghen deg wass n 1 Dujember 1826, yenna-d weghmis n Tasmanian Colonial Times : "Maci maci s tin n lxir i lmend n yemdanen-agi akk d zzux ara d-nini awal-agi, maca ilaq ghef unabad' (gouvernement) ad ikkes ines'liyen-agi [ad ten-yeffer negh ad ten-yenfu], neghmulac ad ughalen ad ten-tts'eggiden am yighersiwen iweh'ciyen yernu ad ten-snegren".
Asmi ay d-sbedden asad'uf aserdasi (loi martiale) di Nwember' 1828, yettunefk-asen ttesrih' i yimellalen ad neqqen iberkanen anda ma walan-ten. Xas ma yella iberkanen nnughen am yizmawen, idebbuzen-nni-nsen n wesghar akk d yi'ekzan-nni-nsen imesden (iqed''en) ur zmiren ad qablen yis-sen lbar'ud, lqella n rr'ehma akk d taghert n tasa (cruautť) ay s'eddan fell-asen Wur'ufiyen.
Dgha imir-n, adabu yughal yettak ula d idrimen i s kra n win ara "d-yett'fen aberkan", akken llan qqaren, yernu ur i'ett'el ara wanect-a yughal d ssuq ameqqran; yal asrew ameqqran ara d-yettwatt'en, ad yagh fell-as bab-is 5 n yipounden (livres), di lweqt i deg ma yett'ef-d agrud, ad yagh fell-as 2 n yipounden. Mbe'd ma ixemmem udabu ghef temsal ay d-d'ebbren fell-as, tid yerzan tutt'fa n Yiserwen i lmend n uzzenzi-nsen akken ad ilin d aklan, tin n tmenghiwt-nsen s ssem negh n tutt'fa-nsen s tecr'ektin akk d tin n us'egged-nsen s yid'an, ikemmel yettak idrimen i tutt'fa-nsen yernu yughal yesseqdac ula d tamsulta (police) i lmend n wanect-a.
Asmi ay yekfa Wemgaru n Yiberkanen, ur d-mazal ara adabu yettwali-ten d amihi (danger) maca, akken ad yawi cci'a, ikemmel udabu yettwali-ten d imesfesden yernu d imcewwlen n tmurt. Dgha yughal yettnadi ad d-yesnejme' akk iberkanen, zun s tin n rr'eh'ma yernu di les'lah'-nsen akken ad ten-yerr gher yegriren n wesnejme' (camps de consentration) i deg ara ten-yeh'bes.
Di 1830, George Augustus Robinson, ay yellan d amseghdad (missionnaire) amsih'i, sxedmen-t akken ad d-yejme' akk iberkanen Itasmaniyen ay d-yeqqimen di tegzirt u ad ten-yawi gher tegzirt n Flinders, ay ibe'den azal n 40 km ghef Tasmanya. At'as seg wid ay d-yett'ef Robinson mmuten mi teddun deg webrid. Di 1843, ala kan xemsin ay d-yeqqimen. Dgha yura-d Jared Diamond ghef wanect-a, yenna-d :"Di tegzirt n Flinders, Robinson yella ye'zem ad isseghrem (civiliser) u ad yessemseh' (christianiser) wid-n akken i d-yeqqimen ddren. Amkan-nni i deg zedghen d amkan yetth'az wad'u, xuss'en deg-s waman iz'idanen yernu llan lehh'un-asen din i Yiserwen amzun d imeh'bas. Igerdan sbe'den-ten ghef yimawlan-nsen akken ad ssisehlen asseghrem-nsen. Ma d ahil-nsen (programme) n wass yecba win n yiserdasen, llan qqaren deg-s Adlis Imqeddes (Bible), lemmden ad dekkren yernu ttqara'en-ten ghef uzzizdeg akk d ussemsawi n wusuten-nsen akk d tghawsiwin i yes tetten.
D acu kan, uttci-nni ay sen-ttaken di tkurmut (lh'ebs) ixuss' yernu yessed''ef-iten, yernu mi sen-ikemmel watt'an, at'as deg-sen ay yemmuten. Ala kan citt'ah' n llufanat ay imen'en ugar n kra n ledwar'. Anabad' (gouvernement) yessenqes idrimen ay yetts'errif fell-asen imi ay yed'me' ad iwali akk ines'liyen-nni mmuten. Di 1869, ala kan d Truganini, yiwet n tmett'ut nnid'en akk d yiwen n wergaz ay d-yeqqimen ddren".
Itasmaniyen ineggura :
Asmi ay neqsen s wat'as Yiserwen n Tasmanya, bdan Yimellalen ad ttmuqulen ghur-sen s tmughli nnid'en, d tin yeffghen i tnumi, imi ay llan ttxemmimen d akken iberkanen-agi "d assagh (lien) ger n yemdanen akk d yebkan". Di 1859, adlis n Charles Darwin, "Ghef Las'el n Tlemsin" (De l'Origine des EspŤces) takti n temhezt tasnudrant (ťvolution biologique) akk d tin n temhezt n tmetti n yemdanen d takti mechur'en i deg Imellalen d nitni ay yellan ghef tqacuct n temhezt, d nitni ay yennernan yernu ifen akk imdanen, di lweqt i deg Iberkanen atni di lqa'a n teskala (ťchelle).
Dgha ughalen ttwalin d akken Iserwen d tarba't kan n medden "ay terra tmara ad negren imi akka ay iteddu usad'uf n ugama (loi de la nature), akken ay yenger ududu (dodo [d yiwen n wegd'id' yettidiren zik di tegzirt n Maurice] negh akken yenger udinuzur'". Di tallit-nni digh ay d-tesbedd Marikan yiwen n usad'uf i deg d-teqqar d akken argaz aberkan ur yes'i ara akk izerfan ara iqader wergaz amellal.
William Lanney, ay llan ttlaqaben-t s yisem n King Billy, d netta ay d argaz Atasmani aneggaru akk ay yes'an idammen yes'fan. Ilul-d di 1835 yernu yekker-d di tegzirt n Flinders. Asmi ay yes'a tlett'ac n yiseggasen, Lanney wwin-t s netta s wid ay d-yeqqimen seg wegdud-is gher yiwen n wegrir n wesnejme' umi qqaren Oyster Cove. Taggara, yughal d awlal (marin) yernu kra n yiseggasen sakin, ir'uh' ad is'egged tizmekt (baleine). Imi d netta ay d argaz aneggaru akk n Tasmanya, Lanney llan ttwalin-t d adriz (trace) yeddren seg wegdud-is. Di Yennayer n 1860, qeddmen-t-id i Ugeldun Albert. Di Fur'ar' n 1868, yughal-d d amud'in seg yiwen n yinig i deg yeffegh akken ad d-is'egged tizmekt, dgha deg wass n 2 Meghres 1868, yemmut di texxamt-is, di ttberna n Dog and Partridge, di temdint n Hobart, di Tasmanya.
Lanney i yes llan ttihin asmi yella yedder, yughal asmi yemmut d taghawsa i yeghlayen am ddheb. Ula mi akken yella di sbit'ar ahersan (colonial), ma cwit', sin n yemdanen ay yellan 'ewwlen akken ad awin ighsan-is yernu nnan-d d akken bghan ad gen aya di les'lah' n Tiddukla Tageldant n Tasmanya (Royal Society of Tasmanya) [i lmend n tussna]. Deg wass n 6 Meghres 1868, ass i deg ara yemd'el, ger n xemsin akk d settin n yimezdaghen ay d-yennejmaÍn gher sbit'ar, ttnadin ad z'ren Lanney.
Yebda a ilehh'u wawal ger medden d akken tafekka-yines tewagzem, dgha akken ad asen-qed''en ccek i wid ay d-yusan ad run fell-as, ldin as'enduq i deg t-rran yernu sseknen-t-id i medden, ulac d acu i s-yed'ran. Mi t-walan wid ay t-iwalan, ghelqen as'enduq-nni yernu sekr'en-t. D acu kan, nnan-d d akken deg yid'-nni kan yekcem yiwen n umejjay gher texxamt-nni n lmegget n sbit'ar i deg ssersen Lanney yernu yuza-yas aqurru-yis i wagi akken ad as-d-ikkes aqecrur-is (cr'ne).
Dgha i wakken ur d-yettban wacu i s-yettwaxedmen, nnan-d d akken uzan aqerru n yiwen n umud'in nnid'en ay yemmuten ass-nni kan di sbit'ar-nni, kksen-as-d ula d netta aqecrur-is yernu rran-as i Lanney. Imaslad'en (membres) n Royal Society "rfan mlih'" imi ay ten-zwaren deg wanect-a, dgha, imi ay s-nnan d akken tukerd'a n tfekka n Lanney d ayen i ghef ara bnun, 'ezmen ad as-kksen i Lanney s kra n wayen akk ay izemren ad yes'u azal u ad yettwaker si tfekka-s, dgha ula d nitni gezmen-as ifassen-is akk d yid'arren-is. Yugh lh'al, akken ughen tanumi di Tasmanya, yiwen ur yettuweddeb ghef wanect-a yernu akka ay d-tella tgara n William Lanney, argaz aberkan aneggaru akk n Tasmanya.
Tagellidt* Truganini : Tatasmanit taneggarut
[Truganini ur telli ara d tagellidt wanag d tamett'ut kan tatasmanit n menwala, d acu kan, imi d nettat ay d tamett'ut taneggarut n wegdud-is, zun semman-as "tagellidt", akken digh ay d as-semman "agellid i Lanney, akken ad ttihin fell-as]"
Ula d yiwwas ahat ur d-ted'ri tedyant deg umezruy i deg ccetla n yemdanen s lekmal-is ad tt-snegren di xemsa d seb'in kan n yiseggasen. Maca d tagi ay d tadyant n tidet ay d-yed'ran d Yiserwen n Tasmanya, xlan-ten wid ay d-yusan ad asen-kksen tamurt-nsen s wamek ay ttidiren, am wakken ay ten-snegren s ccer' yellan deg wulawen-nsen ... Ala kan d tih'er'ci-nsen akk d leslah'-nsen amezwar (primitif) ay llan s'an-t akken ad qablen yis-s a'daw yes'an lemwas akk d lbar'ud. Di 1876, aneggaru deg-sen yemmut, dgha akka ay yenger wegdud s lekmal-is". --Clive Turnbull.
Deg wass n 7 Meghres 1876, Truganini ay yellan d amdan aneggaru yes'an idammen yes'fan n yiberkanen n Tasmanya, temmut, tlata d seb'in n yiseggasen ay tella tes'a di le'mer'-is [wiyad' qqaren-d tes'a 64]. Yemma-s d Ur'ufiyen ay tt-yenghan s lmus. Weltma-s, ukren-tt Wur'ufiyen. Argaz-nni ara tt-yaghen naqal, sgherqen-t Wur'ufiyen nettat teh'der', yernu wid-n akken ay t-yenghan kksen fell-as sser ula d nettat.
Nezmer ad d-nini d akken tiwugha qerrih'en ay ih'uzan Truganini s timmad-is d tid ay d-yesskanayen tawaghit yewwten akk Iberkanen n Tasmanya s umata. D nettat ay d taneggarut akk deg-sen. Mi akken tella tesred ghef wusu n lmut, tessuter seg umejjay, tenna-yas : "Ur ten-ttaddja ara ad iyi-gezmen". D acu kan, mbe'd ma med'len-tt, skeflen-d tafekka-yines yernu ighsan-is, 'ellqen-ten s yilez'wi, rran-ten deg yiwen n us'enduq yernu ssersen-tt deg usalay (musťe) n Tasmanya i deg tughal d yiwet si tghawsiwin ay d-ijebbden akk medden dinna alammi d 1947. Di tgara, di 1976, asmi yewwed' lqern seg wasmi ay temmut, xas akken yugi usalay, ighsan-is sserghen-ten yernu ighighden-ines zzuzren-ten di lebh'er'.
Tagrayt :
Tawaghit ay d-yed'ran d yiberkanen iserwen n Tasmanya, xas akka tettaqrah' mi ara tt-id-nessiwel, d tadyant ay yuklalen ad tt-id-nini. D acu n temsirt (dder's) ara d-nelmed si nnger n Yitasmaniyen ? Tudert akk d tmattant n Truganini tesskanay-d akken ilaq assaghen (relations) yellan ger n Yimellalen d Yiberkanen di Tasmanya negh digh s umata, assaghen yellan ger n Yiberkanen d Yimellalen deg wemd'al s lekmal-is. Ger n 1803 akk d 1876, snegren akk iberkanen Iserwen n Tasmanya, dgha ulac tin ur n'edda ara fell-asen, jeggh'en-ten, kksen fell-asen sser yernu, d ayen ibanen, nghan-ten d tirni. Dgha mi ara nwali gher umezruy yettcur'en d ttbut ghef tmenghiwt n yiberkanen, lqella n rr'eh'ma, ledjhel akk d lbat'el meqqren ay s'eddan Wur'ufiyen fell-asen ama di Tasmanya, ama deg wemd'al s umata, nezmer ad d-nini d akken di tidet, maci d aghersiw-nni itetten kulci deg wunughen iteddun (dťssin animť) n Marika ay d ccit'an, wanag d Imellalen-nni imennekcamen ay d ccwat'en n tidet n Tasmanya.
Timerniwt :
Iserwen n Tasmanya ass-a : wid ay imen'en i usenger
Amagrad-agi (article) ay teghram urigh-t di tizi n 1997 yernu yella-d d ah'ric seg yiwen n umazrar n yimagraden ay d-gigh akken ad d-jebdegh lwelha n medden gher wayen i'eddan zik d wayen yett'eddin ass-a, amezruy akk d wemkan ay s'an ass-a Yiberkanen deg wemd'al merr'a. Dgha deg wanect-a, ttwaligh-t d amagrad igerrzen mlih'. D acu kan, ilaq ad d-gregh tamawt d akken amagrad-agi urigh-t uqbel ma rzigh i tikkelt tamenzut gher Ustr'alya. Simmal yett'eddi lweqt, simmal ttwaligh d akken inig (voyage) d tarmit (expťrience) igerrzen ay d-yesselmaden lumur', yernu mi ara tettiniged' tikwal, tzemred' ad d-tissined' tighawsiwin ur tettafed' ara dima deg yedlisen.
Di Nwember' n 1998, 'erd'en-iyi-d akken ad d-mmeslayegh deg Usarag Amad'lan n Yegduden Iserwen (Confťrence Mondiale des Peuples IndigŤnes) n Toowomba, di Queensland, di Ustr'alya. Mi akken lligh ihi dinna, is'ah'-iyi-d ad d-rzugh ghef wat'as n yemd'iqen, gar-asen tlata seg Yiwunak (Etats) n Ustr'alya. Dgha d tikkelt tamenzut di tudert-iw i deg ara mmeslayegh akk d Yiserwen Ustr'aliyen. Asarag-nni s timmad-is yella-d d taghawsa igerrzen, d taghawsa ifazen s tidet yernu d yiwet si termitin (expťriences) timeqqranin akk di tudert-iw.
Maca uqbel ma yebda-d usarag-nni, xel'egh mi d-mlalegh i tikkelt tamenzut yiwen n wergaz d aberkan si Tasmanya ! Isem-is Errol West yernu d aselmad di Tesdawit n wenz'ul (sud) n Queensland. Yugh lh'al, aselmad West (ay yellan d amassan ameqqran u d amedyaz-poŤte ifazen) myussanegh yid-s dindin kan yernu nughal d imeddukal n l'ali.
Yella-d wesqerdec meqqren wagar-anegh yernu ughalegh fehmegh d akken, zighmana, ala kan d iberkanen yes'an idammen yes'fan ay inegren wanag mazal llan Yiberkanen [umi xeld'en yidammen akk d Yimellalen] ay yettidiren di Tasmanya ass-a. Dgha yed'ha-d d akken anect-a ixulef mlih' ayen d-uran yimura imeqqranen ghef temsalt n nnger n Yitasmaniyen. Nnig waya, Aselmad West yefka-yi-d tugna (image) nnid'en n Truganini, ay ixulfen mlih' tin akken ssnegh.
Inig-yinu gher Ustr'alya yeddja-yi ad xemmegh ghef wat'as n tghawsiwin umi ay ilaq ad 'iwdegh tamughli. Tment'ac n wagguren sakin, ughalegh gher Ustr'alya yernu ssnegh-d ugar n tghawsiwin ghef tmurt-agi icebh'en, dgha lemdegh-d ugar n tghawsiwin ghef umezruy akk d wamek ay ttidiren ass-a yemdanen ines'liyen n dinna.
Yugh lh'al, almad ur yeh'bis ara, wanag tt'fegh-d digh, ach'al n wagguren aya, kra n tebratin tiliktr'unanin (e-mail) sghur n yiwet n weltma-tnegh si Tasmanya, tesnemmer-iyi at'as ghef umagrad-agi yernu tga-yi ifadden akken ad kemmlegh u tenna-yi-d d akken ula i agadegh imi Iberkanen di Tasmanya "mazal-iten ddren yernu mazal-iten ttnaghen ghef yizerfan-nsen u ttnaghen digh akken ad ten-id-yughal wemkan ay uklalen di tmurt-nsen, ad sset'er'fen yis-sen d imezdaghen iserwen". Tugh, mazal yettkemmil welmad.
* Runoko Rashidi d anmezray (historien), d amsarag (confťrencier) d amaru yes'an tayri meqqren i Tefriqt.
Tasuqilt sghur
Omar MOUFFOK d Belqasem CHELOUCHE
I tmerniwt n yisallen, rzut s amd'iq-agi :http://www.africawithin.com/
---
Agemmay n tmazight akken ay t-id-tessumer WAAC, i lmend n tira n tmazight di internet :

a ----- azul, argaz, amazigh
' ----- 'iwen, cegge', a'essas
b ----- baba, ibki, abuqal
c ----- acawi, uccen, taccuyt
d ----- dadda, tidet, udi
d'----- ad'u, id'elli, ad'ad
dj ---- afendjal, taddjalt, tajeddjigt
e ----- enz, amenzu, kkes
f ----- tafat, uffal, ifires
g ----- agu, tagmart, amger
gh ---- ighi, imghi, ilelli
h ----- ahuddu, ahrawan, ahil
h' ---- tah'anut, ah'bib, ah'riq
i ----- iri, izimer, icimmi
j ----- ajerrid', ajemmid', ajellab
k ----- aksum, ikkil, ikerri
l ----- tilelli, tala, iles
m ----- tama, tament, amkan
n ----- annar, inighem, inisi
q ----- aqbayli, tuqqna, ameqqran
r ----- amrar, ifer, tiririt
r' ---- r'wu, takerr'ust, tar'umit
s ----- tasa, isem, tasusmi
s' ---- las'el, tibs'elt, afess'el
t ----- tata, tamdint, tamurt
tc ---- ettc, kettc, atcamar
t' ---- tit', t'umat'ic, aqent'ar
u ----- ulac, tuyat, udem
w ----- awal, wali, weltma
x ----- axxam, taxsayt, tabexsist
y ----- yemma, amezruy, amayeg
z ----- azedgan, uzzal, izi
z' ---- az'idan, zz'el, iz'i
GM : agemmay-agi ur yelli d asumer (proposition) n tiddukla-nnegh akken ad nbeddel agemmay-nni n tmazight amagnu (normal - agemmay agrigi-alatini) ay nessexdam i tira n tutlayt-nnegh, wanag imi ur nezmir ara ad naru di internet isekkilen yes'an izumal n ussemgerrad (lettres diacritiques) akk d yisekkilen-nni igrigen (lettres grecques) yellan deg ugemmay amazigh, nessumer-d agemmay-agi akken ad nefru, si le'd'il (provisoirement) ugur-agi.
Win yeslan ad yini i wiyad'
---
Arut-agh-d, gret-d tamawin-nwen, neqqar l'eslama i s kra n tebrat ara d agh-d-yawd'en sghur-wen.
Tiddukla Tadelsant Imedyazen
BP 129, Poste Didouche Mourad
16006, Alger, Algťrie
E-mail : imedyazen89@yahoo.fr
---
<<< Qqel γer Ụṭ̣̣ṭ̣un 10 Ddu γer Ụṭ̣̣ṭ̣un 12 >>>
---
---